The Cross Hammock - the name is self-explaining - differs from conventional gathered end hammocks by it's different hanging direction. You no longer swing over the head-foot axis from left to right, but over the left-right axis in the direction of head and foot. This difference has effects on the design, ergonomics and application possibilities.
At the beginning of the development there was an innovative idea, which stands crosswise to the commonly known concept of the hammock. We worked out this concept to the end and converted it into a product line. The result are the Cross Hammock models - three new outdoor pieces of equipment that can of course also be used indoors. Only high-quality high-tech materials were used to give the Cross Hammock stability and durability.
Each Cross Hammock consists of specially shaped and elaborately processed hammock fabric made of ripstop nylon. On the left and right side 20 suspension cords are attached, which are bundled by two carabiners. The carabiners are connected to each other by a ridgeline, creating an almost equilateral triangle of forces, which is attached to trees or other suitable fixing points by straps.
The main difference between the various models is the mosquito net, which is missing on the Standard model, is firmly sewn on on the Protection model and can be zipped off on the Versatility and 2 in 1 models. The mesh models also have a higher head and foot section. Compared to the Standard model, from which you can see the surroundings of the hammock in all directions, the all-round visibility is somewhat limited.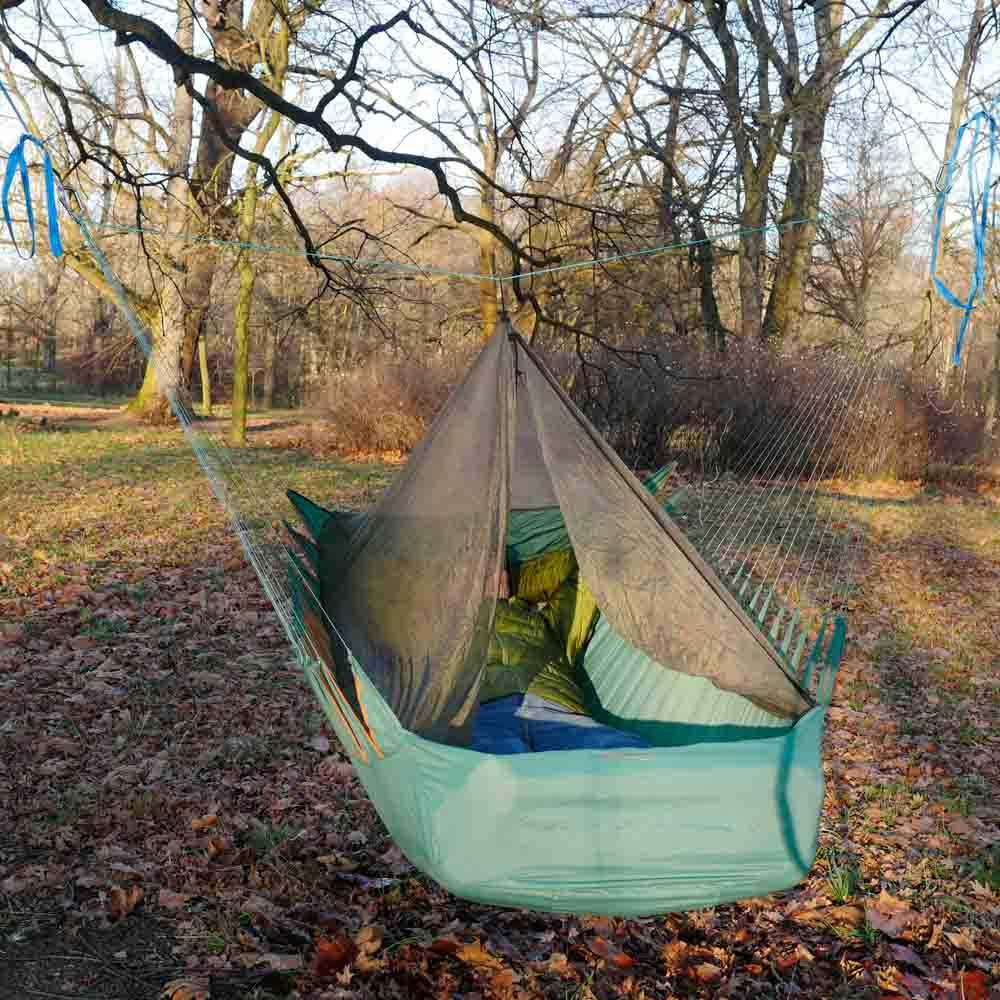 A fundamental difference of the Cross Hammock to the normal gathered end hammock is the straight lying position, which allows a relaxed rest, but also makes staying overnight in it very comfy.
As a "side sleeper" it is easily possible to turn from one side to the other. The Cross Hammock supports all movements and at the same time its geometry prevents banana-shaped sagging.
In addition, the length of the rideline and the position of the headrest can be adjusted via Whoopie Slings, so that the Cross Hammock can be optimally adapted to individual needs and circumstances.
Application possibilities
The possibilities of using a Cross Hammock are almost unlimited. You can hang it up in your apartment - and you will discover how much children like to swing and play in it. It is ideal for relaxing in the park - the small tree spacing you need allows hanging solutions that would be impossible with a normal hammock. However, the Cross Hammock will unfold all its comfort in demanding outdoor use - we tested it also in ice and snow!